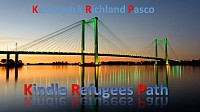 OUTREACH and INTERFAITH ACTIVITIES:
Our Islamic Center is actively involved in interfaith and many non muslim individuals and organizations have contacted us to learn about our beautiful religion of Islam. In the past 3 years, more than 25 brothers and sisters have converted to Islam alhamdulillah. We actively participate in interfaith potlucks and programs.
Outreach committee is also involved in helping out new refugees in the Tri-Cities area.
We welcome any individual or organization, to come to ICTC anytime and ask us questions regarding teachings of Islam or contact us in general.
MISCELLANEOUS ACTIVITIES IN THE COMMUNITY:
ICTC is involved in providing clothing, food items and financial support to the poor and needy in the community including refugees.
We are also actively engaged in reaching out to the community, at various forums including Columbia Center Rotary Club.