ICTC Sunday School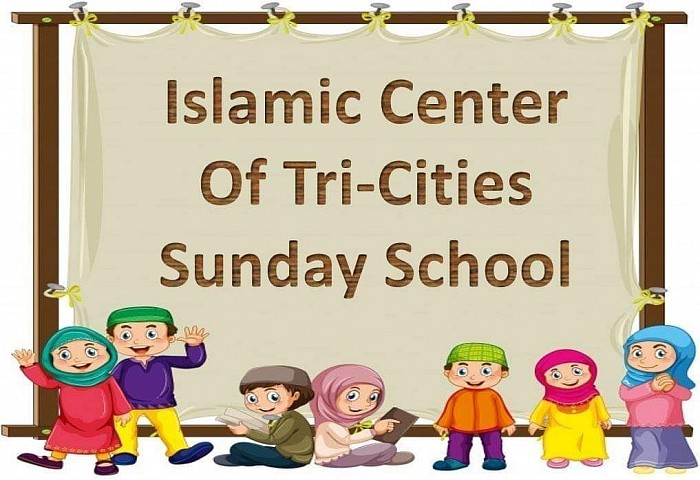 About Us
ICTC Sunday School is a non profit school open to all students that would like to learn Arabic, Quran and Islamic Studies.  
Email: ICTCSUNDAYSCHOOL2020@gmail.com
Goals and Objectives
•Teach Islam relevant to the current day and age while developing an American Muslim identity.
•Develop a Muslim personality based on Islamic values so that they can become future leaders who will work together as part of the community to please Allah SWT.
•Develop a sense of responsibility to society and the environment.
•Provide a basic knowledge of Islam, Quran and the Arabic language.
•Provide an opportunity for parents and children to develop a sense of brotherhood.
Curriculum
The school follows a systematic, comprehensive curriculum. The objective of the curriculum is to provide a broad understanding of all aspects of Islam.
1. Stories of 20 mighty Muslim heroes:  (Youth class)
Stories of 20 More Mighty Muslim Heroes hopes to inspire and empower children with these legendary multicultural biographies.
Stories of 20 More Mighty Muslim Heroes (Mighty Muslim Heroes series): Haque, Tamara, Ezzat, Ghada, Rezig, Soundos, Bose, Trisha: 9780645077490: Amazon.com: Books

2. Al-Qaidah An-Noraniah

"This is the only authentic method that teaches how to read the Holy Qur'an with tajweed in an attractive way, especially for children."
3. 30 Beautiful Values to learn from the Quran
Accompany your child daily through this 30-day journey, and make this experience turn into a lifelong habit, to help them become the best version of themselves!


Featuring 30 beautiful values that come directly from the Quran, this book shares valuable lessons that will inspire children to apply core Islamic teachings to their daily lives.  

Amazon.com: 30 Beautiful Values to Learn From The Quran: (Islamic books for kids) (30 Days of Islamic Learning | Ramadan books for kids Book 2) eBook : Karroum, Bachar: Books

4. The Clear Quran
"Quran recitation, with easy translations of the Surahs, with a brief history of the Quran text, the # of verses, the classification of Meccan versus Medinan revelation. The book covers Sura # 1, # 49-through the end Sura # 114"
The Clear Quran: for Kids (Surah 1, and 49-114: Dr. Mustafa Khattab: 9781949505221: Amazon.com: Books

5. 101 Seerah Stories and Dua
"It is a richly illustrated collection of 101 great stories told in simple language that children will easily understand and relate to. The book includes well known tales from the life of the Prophet Muhammad PBUH"
101 Seerah Stories and Dua: Saniyasnain Khan: 9789351790242: Amazon.com: Books
101 Quran Stories and Dua (Hardcover): Saniyasnain Khan: 9789351790129: Amazon.com: Books
6. Understand Quran and Salah the easy way " conversation "
Learn Arabic through the Quran 
https://youtube.com/playlist?list=PLwNeHLk_z0aQ7rYXtqXCqlSPE_4qxUkF2
7. Morals and Manners in Islam (Monthly Workshop in the Masjid)(Last Sunday of Each Month) (1st one on 10/30/22)

https://drive.google.com/file/d/1k4E9dDo_YzzOG_rAvQVzzR8SGORja-La/view?usp=sharing
8.Getting to know and love the Holy Quran. To let the young kids to lover Quran (Kindergadren)
Amazon.com: Getting to Know & Love the Holy Quran: A Children's Book Introducing the Holy Quran (Islam for Kids Series): 9781735326023: The Sincere Seeker Collection: Books
School System
The School will be online for the First 3 Sundays of each Month. 
There will be Monthly in-person Workshop on the last Sunday of each Month to discuss what we learned that month, and to focus on Morals of Islam.  
First Workshop will be on --/--/2023
                                      School Tuition
Family of 1-2 students:      35 $ per family per month
Family of > 2 students:       50 $ per family per month
Weekly Communication
Weekly homework / Communication notes:
Classes and Links
Time :  10:00 - 10: 40 AM                                                      

Subject.      : Clear Quran
Teacher.      : Mubasher
Age              : 12-18
Zoom Links : Direct LINK  [ 4752642111 / Pass: 9999 ]
Subject.      : 30 Beautiful Values to learn from Quran
Teacher.      : Malak
Age              : 7-11
Zoom Links : Direct Link [ 904 905 4966 / Pass: zE0T8r ]
Subject.      : Kindergarten
Teacher.      : Manar
Age              : 5-6
Zoom Links : Direct Link [ 844 9205 8149 / Pass: 5zCnE7]
Time :  10:50 - 11: 30 AM                                                       

Subject.      : Understanding Quran and Salah
Teacher.      : TBD
Age              : All Ages
Zoom Links : Direct Link [ 904 905 4966 / Pass: zE0T8r ]
Time :  11:40 - 12: 20 AM                                                       

Subject.      : Seerah 101
Teacher.      : Mostafa
Age              : 12-18
Zoom Links : Direct Link [ 904 905 4966 / Pass: zE0T8r ]

Subject.      : Seerah 101
Teacher.      : Nadia
Age              : 7-11
Zoom Links : Direct Link [ 587 569 3148 / Pass: 82vJDq ]
Time :  12:30 - 1:10 PM                                                          

Subject.      : Al Qaida Noorania
Teacher.      : Marwa
Age              : 11-18
Zoom Links : Direct LINK  [ 4752642111 / Pass: 9999 ]
Time :  12:30 - 1:10 PM                                                          

Subject.      : Youth Class
Teacher.      : Amira
Age              : 12-18
Zoom Links : Direct Link [ 904 905 4966 / Pass: zE0T8r ]
Islamic School Summer Activities
End of Year Celebration 2021-2022
New Hijri year celebration
ICTC Sunday School retreat

Haj (Pilgrim)
Summer Camp 2022
Summer Camp 2021
ICTC School fun day

Sunday School celebration 2020-2021

Teacher Appreciation day
Sunday School Eid Celebration
Sunday School Ramadan activities

Salah Workshop
Sunday School open House
Talent Show