As Salamu Aliukum , We would like to congratulate the new ICTC (Islamic Center of Tri Cities ) Executive Committee. We pray that the community continues to grow and flourish and we look forward to continued collaboration towards strengthening our roots as a community, contributing positively to our city and connecting with the greater Tri Cities society.
The ICTC Election Committee has announced the outcomes of the ICTC Executive Council (EC) election process for the term 2022-2024
We are pleased to introduce the incoming ICTC Executive Council:
Yar Siddiqi, President
Ahmad Fora, Vice President
Ismail Qadi, Secretary
Sadik Reka, Treasurer
We congratulate the incoming EC members on their election and ask Allah (swt) to guide them in serving our community and beyond.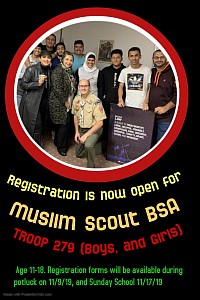 We are happy to open the registration to the Muslim Scouts BSA troop 279. The Scouts BSA is open to boys and girls age 11-18. Boys will be in their own troop and girls in their own troop. Registration forms will be available during our coming monthly potluck on 11/9/19, and during Sunday school on 11/17/19.
This is a great program that teach youth many valuable lessons and help families to spend more time together. The program helps kids to build their sense of belonging, build self-esteem and learn to get along with others, all of these lifetime values are learned into fun and educational activities. It teaches family values and works to strengthen your relationship with your kid.
Act quickly to secure your kid spot